I am passionate about helping people.  I combine naturopathy, bioresonance therapy, herbal medicine, nutritional medicine, homoeopathy, flower essences and lifestyle advice to create personalised holistic health care, with the aim of assisting you to back to health!
To achieve optimum health there is no 'one size fits all' solution, that's why I look after each patient holistically and as an individual.  Under the umbrella of naturopathy, I am also a registered nutritionist, homoeopath, medical herbalist, and a bioresonance practitioner.  As a naturopath I have a holistic approach to health and seek to find the underlying cause of a health issue, rather than just addressing the symptoms.
I am an Australian naturopath with 26 years experience providing straightforward, practical advice to help you navigate the complex issues surrounding your health. I currently practice from my home-based clinic.
Raised and educated in Sydney, Australia for at least half of my life, I have also spent considerable time living and practising in beautiful Yorkshire, England.  I now live in paradise, on Australia's Sunshine Coast. I am a wife, a mum, a sister and a daughter.
I do my best to 'practice what I preach' and enjoy preparing healthy food using my Thermomix, none the less! In my spare time, I love to do yoga, read books, go walking along the beach and catch up with my dear friends.
I am located in Peregian Springs, Queensland, Australia and available for online consultations  only at the moment.

Bioresonance training and lecturing
I am fully trained in bioresonance by the German Bioresonance Institute.  I have obtained the following advanced training:
Practice Orientated Therapy and Effective Allergy Therapy
Therapy of Degenerated Cells
Combined Test Technique Advanced Applications
Therapy Systematics according to Sissi Karz
Advanced therapy Systematics according to Sissi Karz
One-on-one advanced training with German doctors using Bioresonance
Geobiological Consulting
I offer mentoring, training on in-clinic observation sessions for health professionals, both in bioresonance and naturopathy.
In addition, I am a keynote speaker and educator for the Bioresonance community.  I have also presented monthly training webinars to the  Bioresonance community world-wide.
International Presenter and Lecturer
I presented at the International Naturopathic Congress in London in July 2018.
I have also presented at the Bioresonance International Congress held in Germany in April 2018.
I am looking forward to presenting once again, this time, 'online' for the 60th International Bioresonance Congress May 2020!
Author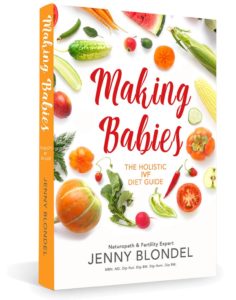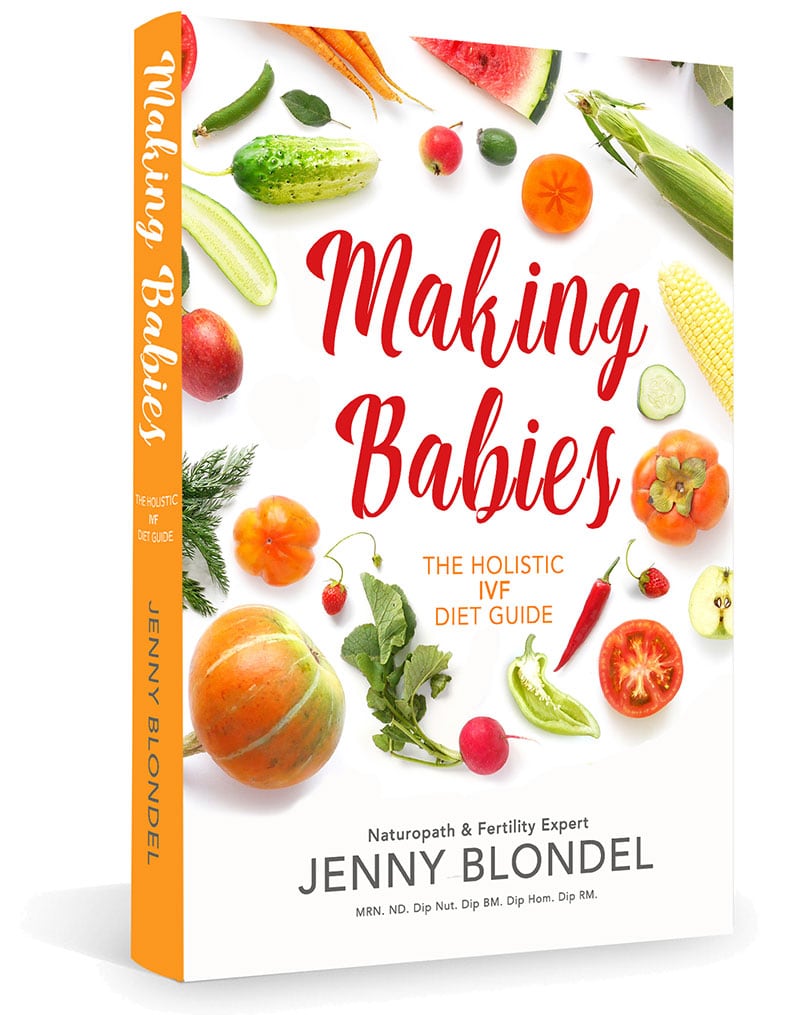 I have written the following books:
The Natural PCOS Diet Cookbook
Making Babies: The Holistic IVF Diet Guide
Accreditation and additional experience
I hold advanced diplomas in naturopathy (ND), nutrition (Nut), herbal medicine (Bot med), homoeopathy (Hom) and remedial massage (RM).
I am registered with the highest accreditation boards both in Australia and the UK so you know you are in competent and safe hands.
I am a member of :
Australian Traditional Medicine Society (ATMS)
General Council and Register of Naturopaths (GCRN)
Complementary and Natural Healthcare Council (CNHC)
Since graduating in 1995 my time has been spent in private practice. I have also worked for prominent nutritional companies including MediHerb and Blackmores, as well as having lectured at Sydney's Nature Care naturopathic college in a variety of subjects including anatomy and physiology, nutrition and herbal medicine.
By S, Ilkley, Yorkshire, UK…
"I started seeing Jenny after being quite seriously ill last year. She devised a supplement and herbal plan for me to assist with my recovery which helped enormously. I have continued to see Jenny on a regular basis since and she has helped with my general well-being as well as advising me in the build up to undergoing IVF treatment. I followed Jenny's advice and her treatment plan (including having bioresonance treatment) for a number of months before starting IVF and am now almost 4 months pregnant!
Jenny is always very kind, caring and helpful. She is always available to provide advice and answer questions and now that I'm pregnant I quite often ask for advice to assist with pregnancy related symptoms as well as following her advice about nutritional support which Jenny is always happy to provide.
I don't think I'd have recovered as quickly last year without Jenny's help and her advice and knowledge about IVF treatment has been invaluable."
Mrs U, Ilkley, West Yorkshire, UK…
"Jenny has been my health practitioner for many years, during which time I have been greatly impressed by her extensive knowledge and understanding in the fields of naturopathy and medical herbalism.
Jenny's practice is underpinned by kindness and genuine concern for my good health.  I have consulted her –both face to face and by telephone – on many health concerns, such as ulcerative colitis, and on every occasion Jenny has given me a written plan of action.  I have left those consultations feeling supported and optimistic and I have found that my physical health and emotional wellbeing have much improved."