We live in a world that – thanks to advances in modern technology – comes with many luxuries and conveniences. But do these modern-day comforts come with a downside? What about EMF pollution?
Since the first light bulb was switched on by Thomas Edison in 1880, our planet has been bombarded by an onslaught of electromagnetic fields (EMFs). In this age of mobile phones, wireless routers, televisions, power lines, stereos and portable GPS devices, we live in a veritable "electrosmog", and this has many of us very concerned about the impact EMFs are having on our health. Even in the early days, people noticed the biological effects of electricity, which makes sense because everything in our body works electrically – our brains, muscles and thoughts communicate electrically through our synapses and brain cells, so it's no wonder man-made electricity interferes with our body.
What are EMFs?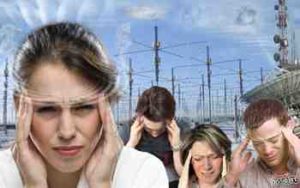 EMFs are invisible areas of energy that are produced with the use of electrical power and many believe they are significantly harmful to our health. In fact, EMF pollution has led to a condition known as electromagnetic hypersensitivity (EHS), characterised by a variety of non-specific symptoms, which afflicted individuals attribute to exposure to EMF. Symptoms of this condition include skin conditions such as redness, tingling, and burning sensations, fatigue, tiredness, concentration difficulties, dizziness, nausea, heart palpations and digestive disturbance.
Who & what does EMF pollution impact?
Several studies over the years from groups such as the Bioinitiative Working Group, International Agency for Research on Cancer (IARC) and the World Health Organisation have reported effects including:
Alzheimer's disease and dementia: from chronic exposure to even low-level radiation (such as that from mobile phones)
Cancer: heavy mobile phone users ('heavy' equating to about half an hour of daily use for five years) are 2-3 times more likely to develop a glioma (the most common type of malignant brain tumour) compared to users who don't use their mobile phones as regularly. And in 2015 a Swedish study involving over 4,000 people, published in Patho Physiology, also found an increased risk of malignant brain tumour associated with long-term use of both mobile and cordless phones.
Stealth pathogens particularly viruses including Epstein Barr Virus (EBV) and other herpes infections. Wi-Fi and other high frequencies appear to create a welcoming environment for EBV etc.
Fertility : studies have confirmed sperm damage in men who carry their mobile phones in the pockets
Sleep: the pineal gland cannot distinguish between visible light and man-made frequencies and so melatonin levels are reduced. This is a hormone secreted by our pineal gland in the brain and is responsible for sleep.  In addition, this hormone is a powerful antioxidant, meaning that it mops up free radicals which attack healthy cells. Interestingly, woman with breast cancer have only 10% of the melatonin that they should have in women of their age; men with prostate cancer less than half, and autistic children also less than half.
Children: unfortunately, children are at greater risk of EMF pollution due to their thinner skin, skulls and developing nervous systems. Additionally, they will ultimately accumulate more years of EMF exposure during their lifetime, reiterating just how new and uncharted these EMF waters really are. Just think about their school environment now with Wi-Fi, tablets, LED lighting, the list goes one.
Even literally, 'the birds and the bees' & other wildlife
What about the bees?
As you might be aware, there is a decline in the bee population which is concerning as over 70% of the food we eat is a result of bee pollination – if bees go then we will be next.  One of the likely reasons is the effects of mobile phone masts interrupting the bees' magnetic navigation systems.  So it is not just humans affected by EMF pollution, it is the bees, migrating birds, fish and other wildlife being affected by EMF pollution.
EMF pollution is serious
As a naturopath and bioresonance practitioner, I take EMF pollution very seriously and notice many patients testing positive for EMF sensitivity, contributing to many symptoms and conditions
I have been a naturopath, nutritionist, medical herbalist and homoeopath for over 26 years, and since I have invested in quantum physics technology, I am seeing even greater success with patient outcomes as I can quickly identify measurable EMF pollution contributing to their health concerns.
Should I have testing for EMF Pollution?
Testing and treating for electromagnetic pollution is extremely relevant for many health concerns including:
Viruses
Energy
Fatigue
Hormone imbalances
Migraines
Many chronic diseases
Protect yourself
We can't control everything in life, and many won't – or can't – give up the luxuries and advantages of modern day which are accompanied by EMFs. So what can we do to mitigate at least some of the damaging effects?
Firstly, get tested to see if you are suffering from the effects of EMF pollution.  How?  I am able to test for this in my clinic.
Neutralise the effects of EMF pollution, geopathic stress and radiation stress with quantum physics technology. It can take time for the body to be affected and sometimes longer for it to recover so sometimes a few treatments are necessary to clear the effects of EMF pollution on your body.  The effects of EMF pollution act a cellular level. and as such devices works at a cellular, regulatory level too, the therapy brings much relief to sufferers.
Consider a neutralising device for your home, workplace, car and electronic gadgets such as: Geo-Safe-E; Regumed Protector; Calmspace Pro; and Vivobase
Don't have wireless routers in your house and instead hardwire your router to your computer. If this isn't an option, be sure to turn your router off at night.
If you must have your phone by your bed at night, put it on "airplane" mode and move it at least one meter away from your head.
Try not to live near a transmission tower or wind turbines.
Avoid compact fluorescent lights: one of the worst culprits of EMFs.
Never stand near a microwave when it's on; be sure you're at least 2 meters away.
When charging your mobile phone have it at least 10 feet away from your body.
Try to carry transmitting devices, including mobile phones, away from  your body where possible.
Live a life that's as toxin-free as possible, to give your body the best chance of defense by way of a healthy immune system.