Insulin is an important hormone that controls blood sugar levels. Insulin Resistance develops when this hormone becomes less effective at controlling blood sugar. As a result, higher levels are needed in order for insulin to have its effects.
This condition is a diet and lifestyle issue. The primary treatment concerns include:
Maintaining a good balance of protein and carbohydrates
Reducing sugar and refined carbohydrate intake
Achieving a low glycemic index by eating low glycemic foods.
Being Insulin Resistant means you will struggle with blood sugar control, which is often associated with weight gain, obesity, overweight, diabetes, estrogen dominance and Polycystic Ovarian Syndrome (PCOS).
To be diagnosed with this condition, according to the International Diabetes Association, a person must have excess body fat concentrated around the waist, in addition, ANY of these following indicators:
Low level of HDL (good) cholesterol
Raised triglycerides (a type of fat in the blood)
Hypertension (high blood pressure)
Elevated blood sugar levels after fasting, or
A diagnosis of type 2 diabetes
The average western diet is too high in sugary foods. Such foods cause rapid spikes in your blood sugar levels. The problem is created when this excess sugar builds up in your blood.
Why? Excess sugar in the blood is toxic to your body and over time can cause damage to organs, glands, nerves, veins and other body structures. This is why diabetics can experience problems with their circulation, kidneys, eyes and wound healing. The sugar literally breaks down protein structures within the body.
Normally, when high blood sugar levels are present, your body has a protective response by secreting insulin from the pancreas to remove the sugar from the blood to the cells for energy, or, worse, to be stored as body fat.
In simple terms, insulin becomes a fat storing hormone when there is too much sugar. And the main area this fat is stored is around your stomach. This is a dangerous risk factor to your health.
The link between insulin resistance and PCOS
Polycystic Ovarian Syndrome (PCOS) is a hormone disorder characterised by the accumulation of what appears to be numerous fluid-filled cysts on the ovaries. These cysts develop over time as the ova (eggs) fail to mature, then release during the menstrual cycle. This causes multiple immature ova to be visible on ultrasound, which are mistakenly called cysts. Despite the name, PCOS affects the whole body. PCOS symptoms usually present during adolescence, but may also appear in your early to mid 20s.
Ovarian pain
Irregular menstruation or amenorrhea
Reduced libido (sex drive)
Over the past few years the understanding of how PCOS develops has dramatically changed. Insulin Resistance is a key factor in the development of this hormone disorder.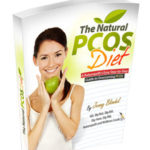 The Natural PCOS Diet
is the exact diet plan you should follow if you have PCOS & are Insulin Resistant. This e-book provides everything you need to know to overcome PCOS and lose weight. What's more, a free bonus cookbook,
The Natural PCOS Cookbook
delivers recipe after recipe specific for proper blood sugar control.
---
 Read more on hormone imbalances