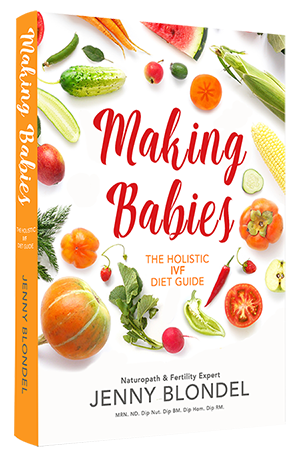 'Making Babies' The Holistic IVF Diet Guide
You want to fall pregnant. You want a baby. You want a healthy baby. You are desperate for IVF to be successful.
IVF is a huge emotional and financial investment. To have a healthy pregnancy and a healthy baby, you and your partner need to go into your forthcoming cycle in the best health possible.
The 'Making Babies' The Holistic IVF Diet Guide provides expert naturopathic advice and information on how you can improve your chances of IVF success and to have a healthy baby. It draws on my 20 years of clinical experience treating the fertility issues of women and men, and my own experience of IVF.
This is not just for people going through IVF, it is a must-have resource for any couple experiencing infertility problems. While there is much advice available from various sources, this book offers so much more – providing you the information you need to ensure you and your partner are as healthy as possible in the quest to have a happy, healthy baby.
After reading 'Making Babies' The Holistic IVF Diet Guide you will understand…
How to improve egg quality and the uterine lining to encourage healthy and viable conception
How to manage your immune system's response to embryo implantation
How to provide the essential antioxidant support to prevent damage to sperm and egg
The latest research and nutriceutical treatments to help reduce the incidence of miscarriage
The best foods to help follicle growth, improve egg quality and strengthen the uterine lining
The supplements that can be safely and effectively taken with IVF injections and medications
The most up-to-date preconception and lifestyle advice
How to maximise sperm health with a bonus men's section on male reproductive health
How to remain 'sane' during the 2 week wait with highly effective meditation and visualisation techniques, flower essences and more.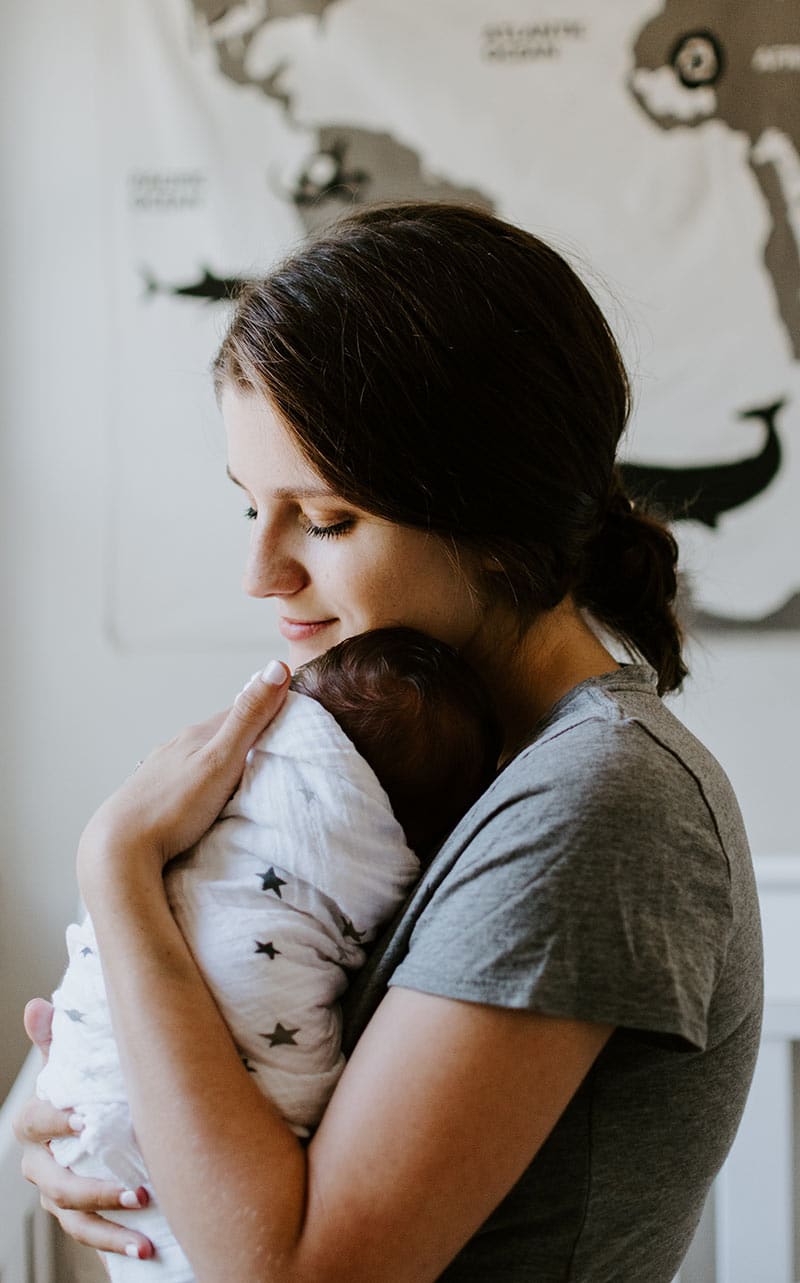 This book is perfect for couples that want to increase their chances of a successful IVF pregnancy. It's packed full of practical tips you can easily incorporate into your life. From diet guidelines to advice on herbs, supplements and alternative therapies, the book provides information on taking care of yourself physically, mentally and emotionally at every stage of the IVF cycle. It's a valuable resource for every couple going through the IVF rollercoaster and comes highly recommended.
Due to a combination of PCOS and my husband's issues with sperm health, we were told by our doctor we would need to have IVF (ICSI) if we were wanting to start a family. I wanted to give it 'our all' so we took on board the dietary and lifestyle changes found in this book to prepare both my husband's and my body for the forthcoming cycle. When we were finally ready to start the IVF cycle, we were both physically and mentally ready. We followed Jenny's IVF diet plan, stress support plan and took the targeted supplements as recommended. It was incredible, our IVF cycle was successful and our beautiful baby girl was born 9 months later. It's not just the detailed, relevant information, but how sympathetically it is written – a must-have for anyone on the IVF journey.
Through Jenny's wisdom and knowledge we discovered the benefit of a change in diet to promote egg quality. After putting Jenny's advice into action we were delighted during the next IVF cycle to obtain a high number of quality eggs which fertilized. As I enter this testimony I eagerly await the arrival of our first bundle of joy!
Why am I an expert in women's reproductive health?
I am a registered naturopath, nutritionist, homoeopath and medical herbalist, and a fertility expert. I am the author of the popular The Natural PCOS Diet.
With 20 years experience in clinical practice, I am passionate about women's health, fertility and the quest to bring healthy babies into the world. My greatest satisfaction is when patients tell me they are finally pregnant.
I take a proactive approach to improving your health and wellbeing. Many of my patients compliment me on my understanding and compassionate nature.
I am a member of GCRN, BNA & ATMS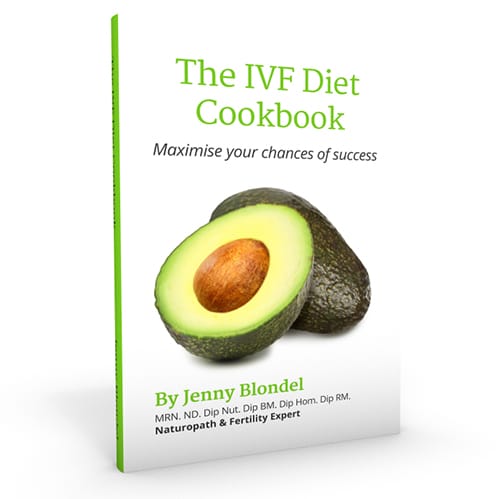 The IVF Diet Cookbook (e-book)
USD$13.50
This dedicated cookbook is packed full of delicious and healthy recipes for each meal of the day as well as daily menu plans – taking one stress away during your cycle.
Having the best possible diet is one of the most important ways to improve your health and prepare for IVF and for a successful pregnancy.
This book will help you to:
take the guesswork out of what nutritional food you should be eating
know how much you should be eating and when you should be eating
find out the best diet to follow during your fertility and IVF journey
discover nutritious-balanced delicious foods specific for your reproductive needs.
If you'd like to purchase this cookbook, please send a message via the contact form.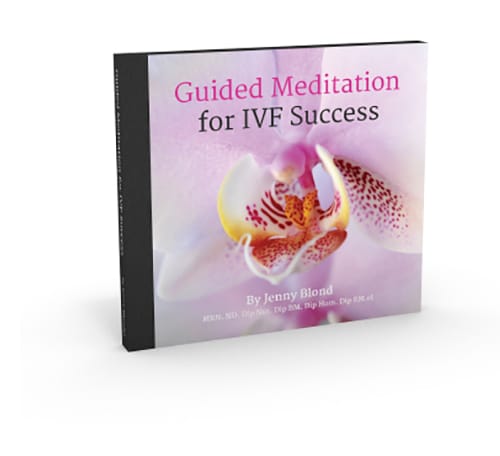 Guided Meditation for IVF Success
USD$8
Relax and maintain a positive outlook and attitude on your fertility and IVF journey with these powerful meditation tracks. Being able to visualise or see pictures or images through techniques that incorporate breathing, meditation or listening to this audio can help you to:
feel relaxed and in control with positive feelings
create a sense of calm and wellbeing
visualise your body producing good quality eggs
envisage a successful egg retrieval
see in your mind's eye a seamless embryo transfer and a healthy implantation.
If you'd like to purchase this cookbook, please send a message via the contact form.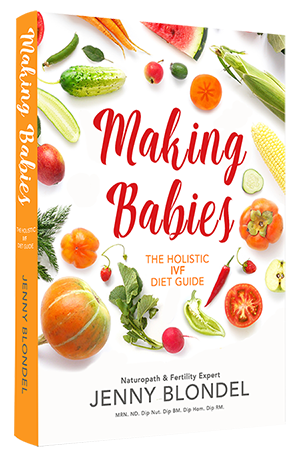 'Making Babies' The Holistic IVF Diet Guide
A naturopathic approach to maximise your chances of IVF success
This book is the first of its kind.
A comprehensive resource to maximse your chances of success and support you during your fertility and IVF journey – before, during and beyond.
USD$21.50 – Paperback directly shipped from Jenny in Australia. We ship to any destination.
Also, don't forget to 'like me' on Facebook and keep up-to-date on all news on fertility and IVF including latest reseach and treatments.
Wishing you all the very best on your fertility journey